For many VR managers, the use of vacation rental listing sites is essential to marketing success. It is a matter, to some degree, of going where the money is.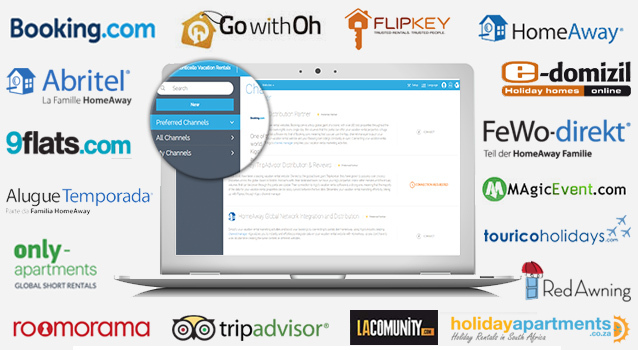 Kigo's channel management software integrates seamlessly with multiple listing sites.
Kigo's "Vacation Rental Investment Fuels Need for Channel Management Software" states: "According to VRMintel 's report "Funding Raised in the Vacation Rental Industry 2011-2015″, startups raised $2.2 billion in 2015, and 99 percent of that investment is being used to build up online marketplaces like Airbnb."
The article continues: "What does all this mean for vacation rental management companies? Simply put, it means that now is the time to add channel management to your to-do list. Now is the time to take full advantage of the influx of investment dollars to major distribution channels in the industry."
Increasing Your Bookings with Kigo Channel Partners
Kigo's channel management software enables vacation rental property managers to seamlessly coordinate listings across multiple channels. Here are a few of the most important channel partners , along with a brief overview of their distinguishing characteristics:
Booking.com
Kigo's "How to List My Home on Booking.com with Channel Management Software" notes some of the unique features that Booking.com brings to the table. The article offers this quote from Darren Huston, CEO of Booking.com: "As consumers strive to create new experiences while traveling, they are looking for places to stay that reflect their personalities, passions and ambitions. That might mean staying on a boat docked in the South of France, a treehouse in Costa Rica, a villa in Indonesia, an apartment in Madrid or a Riad in Morocco. For several years, we have been working behind the scenes to expand our offerings beyond the traditional hotel to help people experience the world in the way they want to that's easier than anything else out there."
Part of the Priceline Group, Booking.com offers more than 287,000 properties and processes 425,000 room nights every single day. With a truly global reach, Booking.com offers real potential to extend your marketing reach to a huge audience.
TripAdvisor
Kigo's "Manage TripAdvisor Business Listing with Channel Management Software" gives a compelling reason for vacation rental managers to partner with TripAdvisor, stating: "With more than 315 million monthly users, TripAdvisor is the leading consumer rating and review site for the travel industry. It provides a consolidated platform where users can read reviews, compare pricing, and book your vacation rental property. Due to the convenience, it attracts a wide range of travelers looking to book their trips easily and in less time, while reading recent reviews regarding the quality of the vacation home rentals. As a highly successful platform that draws in global traffic, it's the ideal place to promote your properties and reach millions of customers across the world."
As more and more travelers rely on online reviews and guest feedback to make booking decisions, TripAdvisor is a go-to destination for a treasure trove of customer reviews. Savvy vacation rental managers use guest feedback to their advantage by harvesting user generated content for use on their own websites as well.
TripAdvisor Vacation Rentals currently handles 170,000 properties all across the globe, meaning that vacation rental managers who partner with TripAdvisor play to a truly global audience.
HomeAway
A partnership with HomeAway nets you access to the entire 50-site HomeAway network, including such popular listing sites as:
VRBO
VacationRentals.com
Homelidays
Owners Direct
Abritel HomeAway
FeWo-direkt
Alugue Temporada
Kigo's "Manage HomeAway Listing with Channel Management Software" reveals a great reason to consider HomeAway as one of your listing partners, reporting: "On average, HomeAway vacation rental owners charge a weekly rental rate of $1,520 ($217/night) and make their home available to guests for an average of 36 weeks each year. The rental of vacation homes thus grosses an annual income of $27,360 for these owners.
Additionally, the average owner spends $961 per year to market their vacation rental – including costs for listing site subscriptions, local print advertising, property manager fees and paid search efforts. With an average annual income of $27,360 each year, the cost to market a vacation rental is only 3.5 percent of total rental revenue and grosses a nearly 3,000 percent return on investment for the owner. By any objective standard, that kind of ROI is impressive."
Airbnb
Airbnb has listed properties in over 191 countries and 34,000 cities globally. Airbnb.com notes that current listings exceed 2,000,000 worldwide.
Kigo's "Vacation Rental Management Leads in the Age of Airbnb" states: "Airbnb has been called one of the fastest growing vacation rental distribution channels in the marketplace. Though Airbnb originally concentrated on being a distribution channel used by the individual host who is renting out a room or his apartment, in 2015, property managers became a focus for Airbnb. It remains to be seen what Airbnb will eventually do in the vacation rental management space, as the company continues to evolve."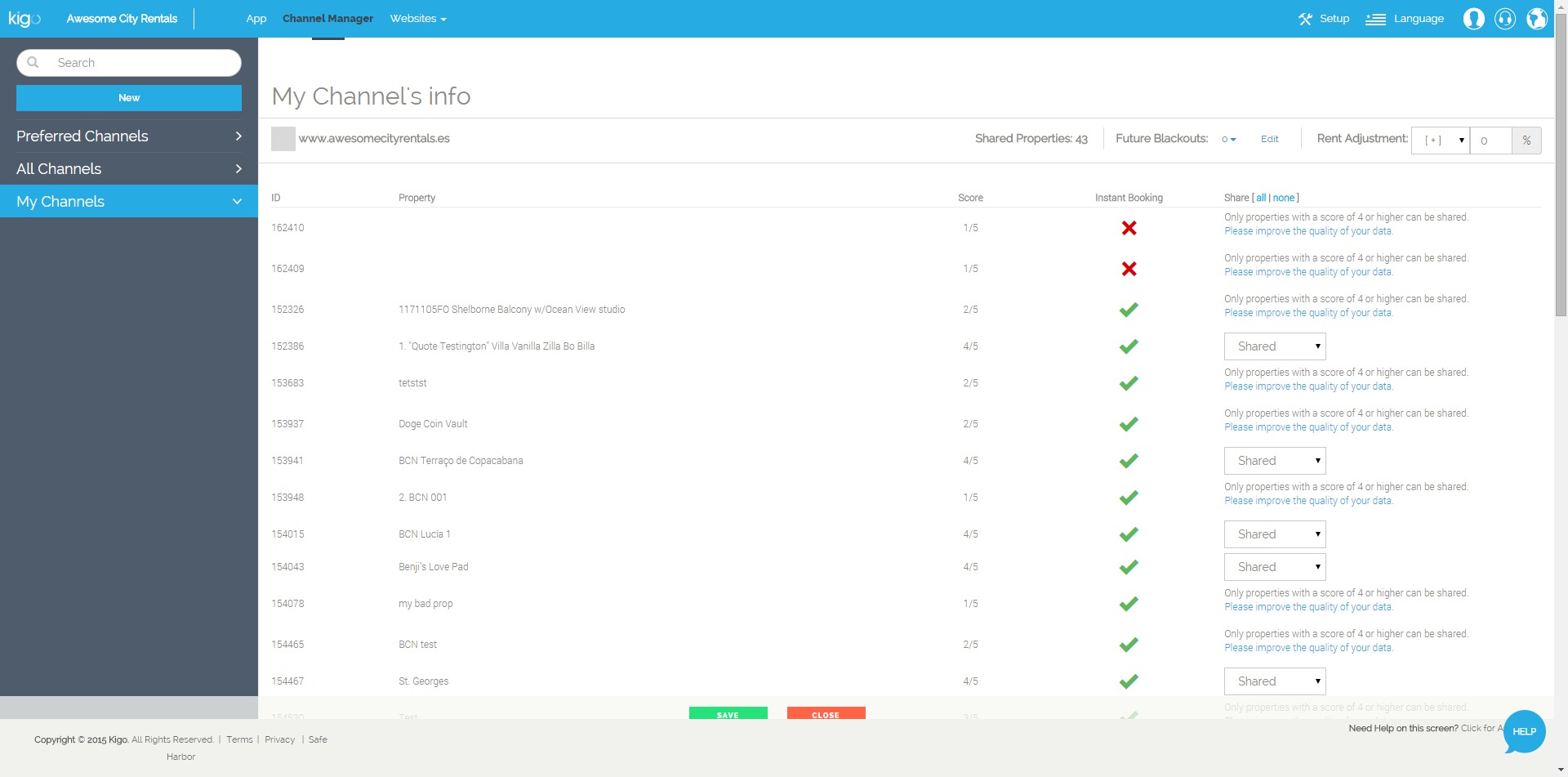 Kigo's channel management software provides easy access to all your channel partners through intuitive dashboards.
The Bottom Line
It is clear that the potential for expanding the reach of your vacation rental marketing efforts is great. Working with a good combination of vacation rental property listing sites, you can boost your bookings and reap the rewards of a more global reach.
Are you ready to save time and increase your bookings? Let Kigo's Channel Management software help you target the right vacation rental listing sites by requesting a demo today!